Sweet sixteen is sweet indeed. Brademixx is back for one last hurrah.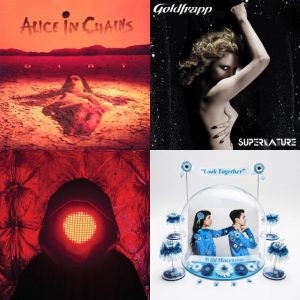 For nearly a decade, Brademixx has been your go-to source for breathtaking musical magnificence. And now, as we arrive at sixteen "discs" worth of solid gold, I present to you the final planned installment. Of course many of my all-time favorite artists are accounted for, but there are a healthy number of first timers as well. I even included my own self for once!
Perhaps in the future I'll release playlists from Spotify (or whatever) that do not adhere to strict Brademixx standards. But now seems the appropriate time to retire this particular series. One can only absorb so much awesomeness before one becomes susceptible to having his or her mind permanently blown. Consider this a benevolent last gesture.
Download Brademixx Maximus (Disc 16)
"Sickman" — Alice In Chains — Dirt
"No Muse" — Wild Moccasins — Look Together
"Endless Night" — Squarepusher — Shobaleader One: d'Demonstrator
"Applause" — Lady Gaga — ARTPOP
"Staircase" — Radiohead — The Daily Mail / Staircase
"The Girl with the Sun in Her Head" — Orbital — In Sides
"All is Full of Love" — Plaid, Bjork — Parts in the Post
"Dwell" — Brade — Section 16
"Opening / Bombing Mission" — Nobuo Uematsu — Final Fantasy VII Original Soundtrack
"Chaghaybou" — Tinariwen — Emmaar
"New Damage" — Soundgarden — Badmotorfinger
"Someone Great" — LCD Soundsystem — Sound of Silver
"Double Bubble Trouble" — M.I.A. — Matangi
"Uncommon" — Umphrey's McGee — Anchor Drops
"The Gun" — Lorn — Ask the Dust
"Let It Take You" — Goldfrapp — Supernature