If you're familiar with Bradezone at all, you know that I enjoy me some premium music. Perhaps you've even experienced the ecstasy of my Brademixx playlists, or immersed yourself in the soundscapes of my album Section 16. But this time methinks I should refrain from cherry-picking and instead focus on complete works of art that stand on their own. Here then are my favorite 21 albums of all time, sorted by title. (Hey, it's hard enough to narrow my list down to 21. You expect me to rank them too??) If you're curious why all of my choices are from the 90's or later, you can check out my first Brademixx post where I explain my rationale.
311: 311 (1995) — I'm glad this one is listed first, because it was the first album I heard in college that stoked my interest in modern music. I mainly listened to 70's rock in high school, and dabbled in Motown and 80's pop before that. But the first time I saw the video for "Down" on MTV, I knew it was unlike anything I'd heard to that point, and I also knew it was highly rad. 311's self-titled record was the first music purchase I had made since Prince's Batman soundtrack many years prior. Fortunately the album lived up to the single, with lots of crazy variety and no weak points.
Global Communication: 76:14 (1994) — Not even its impressive hype could prepare me for the beauty of this album, which gets my vote for best ambient record of all time. It borders on a religious experience. A lot of works in this genre have a tendency to incorporate too many atmospheric sound effects instead of actual music. But with this one, an undercurrent of gorgeous melody is always present even when things get sparse.
Helmet: Aftertaste (1997) — Containing my favorite lyrics of any album, Aftertaste offers a piercing aural assault unlike any other. An exercise in controlled rage, this album provides a direct assessment of a culture steeped in hypocrisy and conformity, all to the pinpoint drum patterns of John Stanier and the guttural growls of Page Hamilton, who offers some sage advice to life hackers: "I like the way you set yourself goals. The blind ambition you sport like new clothes. There's nothing bold in the posture you wear. It's always stunning to show you care."
Goldfrapp: Black Cherry (2003) — You want head-spinning vocal range paired with booty-shaking tunes? Look no further than Alison Goldfrapp, whose second album departs significantly from the mellow style of her first while still retaining her signature sound. Orbital were definitely on to something when they featured her on a few of their earlier tracks, as she has emerged as one of the most unique artists of her time.
Future Sound of London: Dead Cities (1996) — No album on my list surpasses this masterpiece for sheer originality. FSOL manages to express suffocating gloom and sublime beauty all at once on this record, and nothing before or since has ever approached its sound. The track "We Have Explosive" played a pivotal role in introducing me to electronic music, and the album as a whole has proven itself as an unparalleled musical odyssey.
Alice In Chains: Dirt (1992) — Now we arrive at my favorite rock band of all time. But because they hold that position, it's nearly impossible to choose one of their albums over the rest. At various times I've preferred Tripod or Jar of Flies, but in the end it's difficult to deny this record's place in history (and my heart). I remember having the CD in my computer while playing the original Quake, which would randomly select a track to play during each level. A glorious experience to be sure, and just one of many I would share with this most epic of all bands.
Soundgarden: Down on the Upside (1996) — I love how this list is coming together, because I get to place this band right after their Seattle brethren. And truth be told, while no band surpasses AIC in my estimation, no single album tops Down on the Upside. Soundgarden incorporates all their progressive rock and metal influences to maximum effect here, and nowhere is this more apparent than the back-to-back onslaught of "Applebite" and "Never the Machine Forever." From the first day I listened until now, I've never doubted this album's perfection.
Bjork: Homogenic (1997) — The most astonishing vocalist in my lifetime presents her most astonishing album. For reasons still unknown, I didn't really listen to Bjork seriously until well after her heyday. This despite the fact that she collaborated with my favorite artists Plaid to great success. But what a gift it was when I finally listened to Homogenic all the way through. So much emotion and life permeate this record, and I can't think of a more gripping opener on any album than "Hunter."
Passion Pit: Manners (2009) — Featuring a dazzling array of melodic hooks and peerless production values, Manners is without a doubt my favorite pop album ever released. Listening to it again recently only cemented its place on my list and reminded me just how far other records in this genre fall short. Michael Angelakos brings his inimitable vocal style to the table and delivers straight up ear candy.
Battles: Mirrored (2007) — Lord help me, this list is so awesome. When this album dropped, I was in dire need of transcendent music, and did it ever fill the void. Both full-length Battles albums were the best releases of their respective years, but I give the slight edge to Mirrored because of its zany vocal effects and its truly eerie detours in tracks like "Bad Trails" and "Race: Out" which mesmerize me with each listen.
Sasha & John Digweed: Northern Exposure: Expeditions (1999) — A true musical journey encompassing two CD's, this album could be the most stunning DJ mix ever recorded. What makes it so special is its combination of raw power and technical brilliance. Many DJ sets are a little too pristine or possess an overly monotonous thump, but this double album allows itself to breathe while still delivering harsh blasts when necessary. "Waters of Jericho" is a beautiful example of this careful balance in action.
Radiohead: OK Computer (1997) — The modern masters of the album format make their rightful appearance on the list. OK Computer has been heralded by some as the best album ever, and it is an eminently worthy candidate, having arrived on the musical landscape at a time when it was sorely needed. Upon listening to the whole record for the first time, I fully recognized that its cascades of sound coupled with Thom Yorke's haunting vocals were unlike anything before it. Even today, I think we're all still trying to wrap our heads around it.
Plaid: Rest Proof Clockwork (1999) — Oh, Plaid. How do I love thee? Let me count the tracks, many of which appear on this seminal work of art. Rest Proof Clockwork offers everything that makes Plaid genius: lush melody, quirky experimentalism, and an undercurrent of optimism. "Little People" wonderfully combines an addictive bass line with turntable vocal effects, while "Air Locked" aims straight for the heart with its sparse, dreamlike instrumentation. And the combination of "Dead Sea" and "Gel Lab" might be my favorite sequence ever recorded. More than any other artists, Plaid have salvaged my sanity during the dark nights of the soul.
Orbital: Snivilisation (1994) — Now I'm convinced this list order is divinely inspired. Much like the AIC / Soundgarden combination, Plaid and Orbital constitute my top artist in their genre coupled with their predecessor. Orbital's Brown Album was the first electronic album to rank as my personal favorite, a position it held for many years. But Snivilisation certainly bowled me over when I first heard it, and over time it has become my preferred Orbital record due to its pervasive tone of melancholy and defiance, and the connection it makes me feel with the larger struggles of humanity.
Queens of the Stone Age: Songs for the Deaf (2002) — The greatest rock band of the 2000's unleashes their greatest album, one with pristine production quality and a subversive radio station concept. Never before or since has raw sludge sounded so clean; no matter where or how you listen, it sounds like you're wearing the best headphones possible. But slick recordings mean nothing unless the tunes generate as much foot-stomping pleasure as "Song for the Dead" or "Go With the Flow" or really any of these incredible tracks. Viva guitar rock!
Lush: Spooky (1992) — No one creates a hypnotic atmosphere quite like the aptly named Lush. Their track "For Love" was on some random compilation album I owned long ago, and I couldn't get it out of my mind for years. Finally, during those halcyon days when MP3's proliferated on private networks, I discovered the rest of the tunes I had been missing. And how glorious those songs were! In a genre that features such luminaries as My Bloody Valentine and the Cocteau Twins, Lush still manages to stand triumphant.
Blockhead: The Music Scene (2009) — Am I cheating by sorting this album title by "The" instead of "Music"? Oh well, it hardly matters where I put it. We're still talking about the best example of sample-driven breakbeats ever constructed. Yes, that even includes DJ Shadow's Endtroducing. "It's Raining Clouds" is a powerhouse opener, and "Only Sequences Change" is like the most ridiculously cool Motown song that was never made.
Filter: Title of Record (1999) — Everyone needs a rage album, and this one is mine. During times of betrayal or disappointment, I can always turn this record on and allow Richard Patrick to yell what I'm thinking. Tracks like "Welcome to the Fold" and "Skinny" manage to oscillate between extreme anger and quiet cries of desperation. Apparently the album's recording was fraught with in-fighting between band members, but in a weird way that may have helped the final product to resonate emotionally in exactly the right ways.
Burial: Untrue (2007) — Widely hailed as a cornerstone of dubstep, Untrue in my view is simply a beautiful album that transcends genre and oozes with emotion, drawing listeners ever closer with its muffled echoes and subdued presentation. Vocal samples are warped and modulated within the thick layers of sound surrounding them, lending a contemplative mood to this recording that is exceedingly rare among electronic works.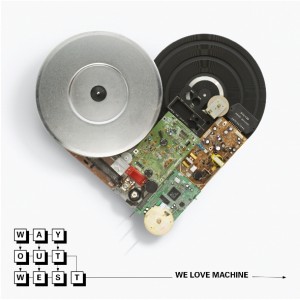 Way Out West: We Love Machine (2009) — This is the album that spurred me to write this post. I first listened to it about a month or two ago and instantly knew I was hearing something special. In fact, I couldn't help but be reminded of this year's Grammy winner for best album, Daft Punk's Random Access Memories. Believe me, I was overjoyed when the robotic duo claimed victory, which doubled as a mainstream validation of the entire field of electronic music. But as I made my way through We Love Machine, I realized I was listening to an album that was just as ambitious, just as extravagant, and just as invigorating. Yet it was crafted four years earlier.
Wipeout Fusion (2002) — No list is complete without a compilation album, and this one is a definite dark horse. Part of a popular series of futuristic racing video games, Wipeout Fusion possesses a soundtrack that is among the most boldly eclectic ever produced, featuring artists who rarely get to showcase their talents on such a visible stage. I include it on this exclusive list because of its enormously intriguing ability to maintain such an even-keeled and neutral tone, which conjures visions of a sterilized future that is simultaneously frightening and comforting.
So that's my list, folks. Or at least that's all I'm allowing myself to include at the moment. There are still dozens of artists who deserve an honorable mention: Guitar Vader, The Knife, Nine Inch Nails, Amon Tobin, Clark, and so many more. But you can probably find them on one of my playlists. I have had my say, dear reader. What are your favorites?