In the original Mario Bros., everything went smoothly. The brothers teamed up to mash monsters, and all was well. Mario went on his separate Donkey Kong adventures because the love of his life, the Princess—I will assume Peach, though this has been debated—was kidnapped, and it was his mission to retrieve her. Later in Super Mario Bros., we see something interesting. Mario has chosen to dress in red overalls with drab green shirt. Luigi sports white overalls with bright green shirt. Green was the family color, and they both wore it with pride. Then something happened. Luigi slowly began to have "thoughts" about Peach, Mario's woman. Mario detected this and resented it. (The Toad retainers, not noticing the difference between the then-identical brothers, always referred to them by their common last name: Mario.) Mario successfully established a relationship with Peach, but this wasn't the end.
Between this time and Super Mario Bros. 2, important things happened. For one, Mario became a bit overweight and out of shape, no doubt because he had already won the woman of his dreams, and didn't need to bother looking studly (the mistake so many people make). Meanwhile Luigi took the advantage, working out relentlessly, doing his daily stretches and drinking plenty of milk, thus becoming leaner and a bit taller than his brother. Mario knew something was up, and in a fit of immaturity, decided to get rid of all traces of green in his wardrobe, thereafter always wearing red and blue. Luigi kept the green but also made the transition to blue overalls. They both chose these because they were far more stylish and functional. Blue was the only color Levi's made. In SMB2 they fought alongside the Princess and Toad. Lots of awkward sexual tension marked the adventure. Luigi was eager to impress the Princess with his formidable jumping abilities by adding an unnecessary "leg flourish" to each jump. Meanwhile Mario was a bit less flashy and athletic, but made up for it with superior upper body strength to pick up veggies. The Princess played them both by performing jumps that allowed the brothers extended peeks up her skirt. Meanwhile Toad was exploring his own sexuality and found himself strangely attracted to the other three at different times. A lot of adrenaline and testosterone was fueling Toad at this time, enabling him to pick up things and run much faster than anyone, but his pint-sized frame limited his jumping. After this chaotic adventure ended, nothing was really addressed openly. The land of dreams was restored to order, and Mario continued dating the Princess, who was still playing high-minded and hard to please.
Luigi, seeing his failed efforts, put on a few more pounds, and by Super Mario Bros. 3 was again identical to Mario in appearance. Toad was prevented from joining this adventure, since the Princess had been captured and would no longer insist Toad's presence. The brothers were also very uncomfortable with Toad's homosexual passes at them, and didn't want the distraction. But their mutual animosity was at an all-time high. The opening credits of the game showed Mario leaping high into the air and stomping Luigi on the head. Luckily Luigi was able to absorb the blow with a new ducking defensive move. The game itself was riddled with a balance of a common assault on King Koopa and incessant in-fighting. Every time one of the brothers passed the other on the world map, the chance was all too likely that they would square off in some sort of meaningless competition usually involving coin collection. The hatred was intense between them, but despite this, they managed to conquer Bowser once more.
Things continued in this uncomfortable fashion for years, then Super Mario World took place. Again the brothers were identical and refused to fight together. One brother took a stage and the other took a different stage, never pooling their talents. The oddity of Dinosaur World did not allow them to in-fight as they did on the familiar territory of Mushroom Kingdom. With this sort of hesitant cooperation, they once again saved the Princess, whom they both began to suspect. After all, she was skilled in combat in their second adventure, so why was she so useless in the third and fourth? They couldn't stand the thought of Peach and Bowser conspiring on something sinister, but it seemed obvious. After this charade ended, both siblings became pals with Yoshi, who from that point forward was to be the go-between of Mario and Luigi, since they were long past the point of talking to each other.
The next game on the agenda was Mario Kart, which brought together all these friends and enemies for a season of sanctioned go-kart racing. These events were riddled with paranoia, with each racer watching the others intensely for signs of conspiracy. Luigi and Mario wondered why Peach and Bowser seemed a little too tolerant of each other, while Donkey Kong's long dormant animalistic desires towards Peach were beginning to resurface. Yoshi was clueless in the whole affair, once again being used as sort of a "watcher" by various parties. Toad was back, and the issue of his sexual orientation was still a hot-stove subject. Princess tried to placate Mario, but clearly something was up. Meanwhile Luigi had again resumed his conditioning program, with dark intentions of sweeping Peach off her feet with his "madd skillz." The fact that attractive women were at a complete minimum in this world guaranteed this sort of rivalry to win Peach's attention would continue unchecked. Peach was the puppeteer. Mario and Luigi would never confront her directly about her hidden motives, because they didn't want to jeopardize their chances for a relationship. Similarly Bowser could be made to believe that the "love" between her and Mario was so strong that she could not conceive of joining Bowser, though deep down she was ready to accept any alliance that would help her in her quest for power. Koopa Troopa was perhaps the most paranoid of all. He would sit in his kart at all times in a cold sweat, shaking… would this be the day Mario or Luigi stomped him out of his shell and used it as a weapon in the kart races? Each time Troopa was required to fire the shells of his own kind, he became more and more lost in his own horror, so that by the end of the event, he had gone utterly mad. The tension between every racer was as thick as a block of Colby cheese, and this resulted in epic clashes in the Battle Arenas which would become the stuff of legend. As each driver swerved and accelerated with top skill and fired and placed weapons with utmost concentration, the level of competition was refined to an art. After it ended, all that was left to show for were the trophies won by each racer—none of the important life issues were resolved.
After the races, the anger intensified between Mario and Luigi. Part of this was both of their frustrations at Peach that they would never dare express towards her personally, so they ended up despising each other all the more. Soon not even Yoshi could maintain the shaky alliance, and by the time of Super Mario RPG, all bets were off. Mario would have no part of Luigi's presence, and Luigi was all too happy to comply. Mario began to lose himself in his fierce training and perfected his abilities to a level not seen before or since. He was even compelled to join forces with Bowser, albeit briefly. There is no cover-up here—it was exactly as explained: a union that served both parties' purposes while retaining the intense animosity between them. Meanwhile Luigi was listless and in deep depression. He began to write poetry steeped in metaphor, he started eating heavily, he lay around in his pajamas for days at a time.
Soon enough, Luigi was nothing more than a fat slob. So even though Mario hesitantly sought his assistance on Super Mario 64, his biggest adventure yet, Luigi was in no shape to join. Yoshi also sat this one out, literally, atop the Mushroom Castle, and Toad was confined to a Matrix-type existence by the Princess, appearing only in holographs. Confined by the Princess, you say? Yes. The deadly alliance between Peach and Bowser had finally reached this point. At this time, Peach once again played the role of victim, but she secretly hoped that this would be the occasion where Mario was put down for good. His goals were nowhere near as lofty as hers, and she knew the two could never coexist in some little mushroom shanty with a couple of kids and a one-kart garage. The still unclear aspect of it all is the extent of Bowser's knowledge and role in the scheme. It is all too apparent that the ease with which he "captures" Peach is one big ruse. But why? What exactly is at stake here?
Analysts say that he wants control of the Mushroom Military, aiming for an imperialistic agenda whereby the Mushroom Kingdom captures control of several lesser territories, using the resources of the Koopa army. The Princess agrees to this in order to extend the boundaries of her own power, but the union between Bowser and Peach is anything but certain. At any point, one could conspire against the other, and the Marios would be caught up in it again. Many feel that Peach will one day allow Mario to succeed in killing Bowser for good, so they can reign together—which will be fine by her, because Mario will of course never question anything she does. He will merely be a figurehead to the public. She will comply with his wanting children, but not out of love—it will be the means of extending the lineage of the kingdom. Meanwhile if Bowser ever successfully dispatches Peach, it is unknown whether Mario will lapse into a depressed state or whether he will relearn his Super Mario RPG moves to destroy Bowser once and for all. Even then, will he be an insane tyrant of a king, or the peace-bringer? But that is all neither here nor there, because Mario did put down Bowser once again, and the so-called "relationship" between Mario and Peach was rekindled.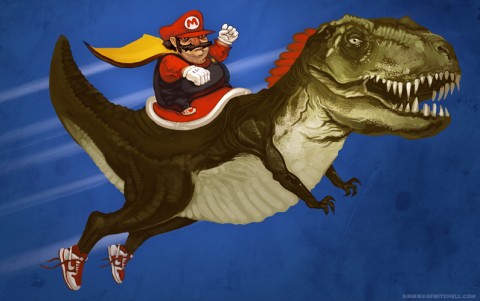 Later events included the Super Smash Bros. tournament, where all kinds of pent-up aggression were on display. The total emotional release this tournament provided may have changed the course of some of the combatants. Luigi had again pulled an Oprah and worked himself back into shape for the event, once more hoping to impress Peach. Thus he secretly entered the event without anyone's knowledge except that of the tournament's organization committee (perhaps found in the instruction manual, but I wouldn't know). Once he was found to be there, everyone was taken aback by the effects of his regimen. Mario had once again slacked off just a little, and the younger brother temporarily gained the upper hand.
After the fight, everyone felt comfortable talking about the issues. So they did, and they threw a little Mario Party to do just that. A bit of fun and games livened the atmosphere while they discussed the problems at hand. Several things seem to be happening. Peach may in fact be starting to realize the momentary lapses in her conscience—why has she agreed to her unholy truce with Bowser? Never again! she resolves. Meanwhile the brothers both thought less of Peach, allowing them to become a little closer again. They began talking and eating lasagna together once more. Toad had finally discovered his true preference, but didn't yet feel okay telling everyone. He and his love interest maintained private relations. Yoshi was still the same old clueless Yoshi. Aside from several other minor cameos, this is more or less where things stand today.
NOTE: This exposé was originally written in November of 2000. It is reprinted here with minor improvements.